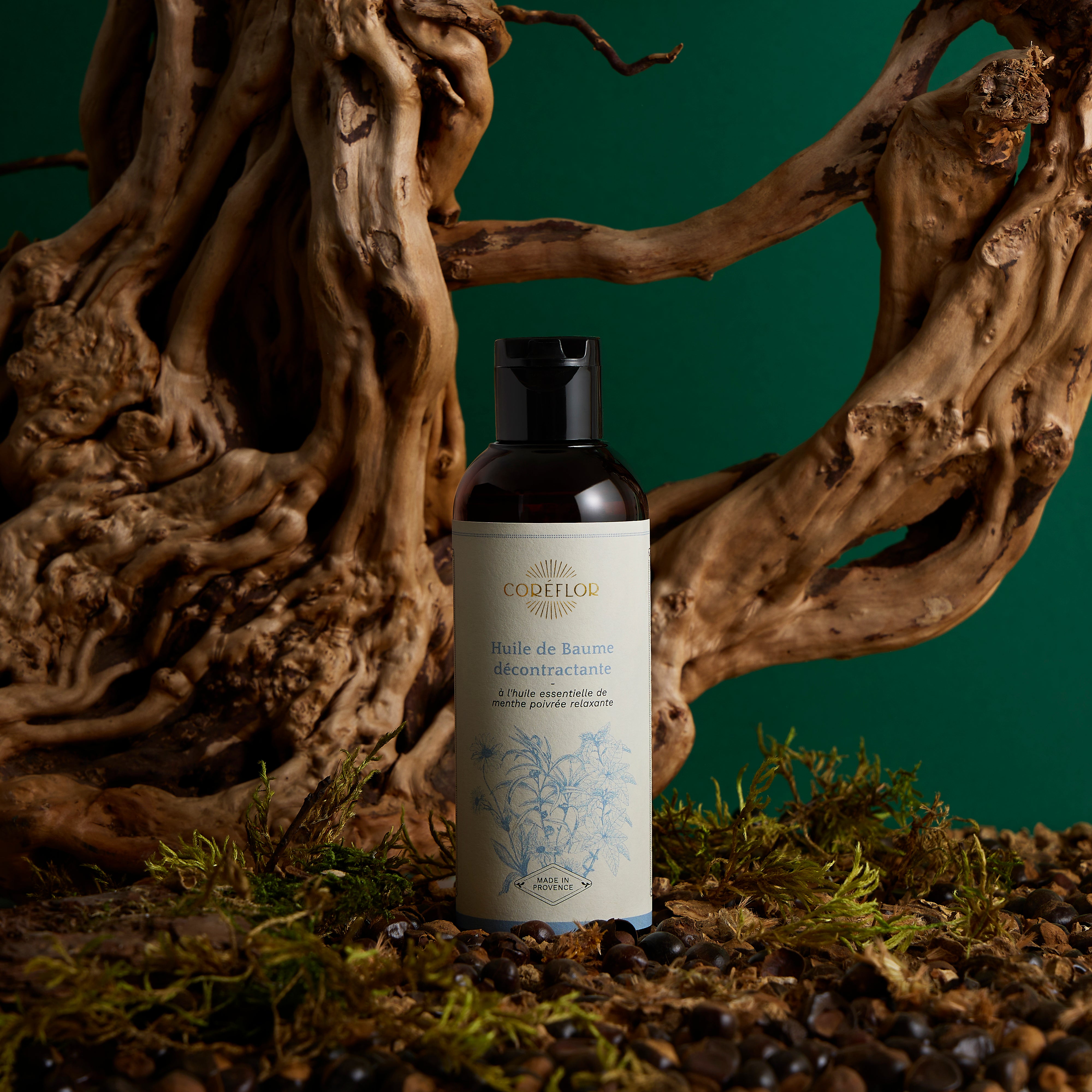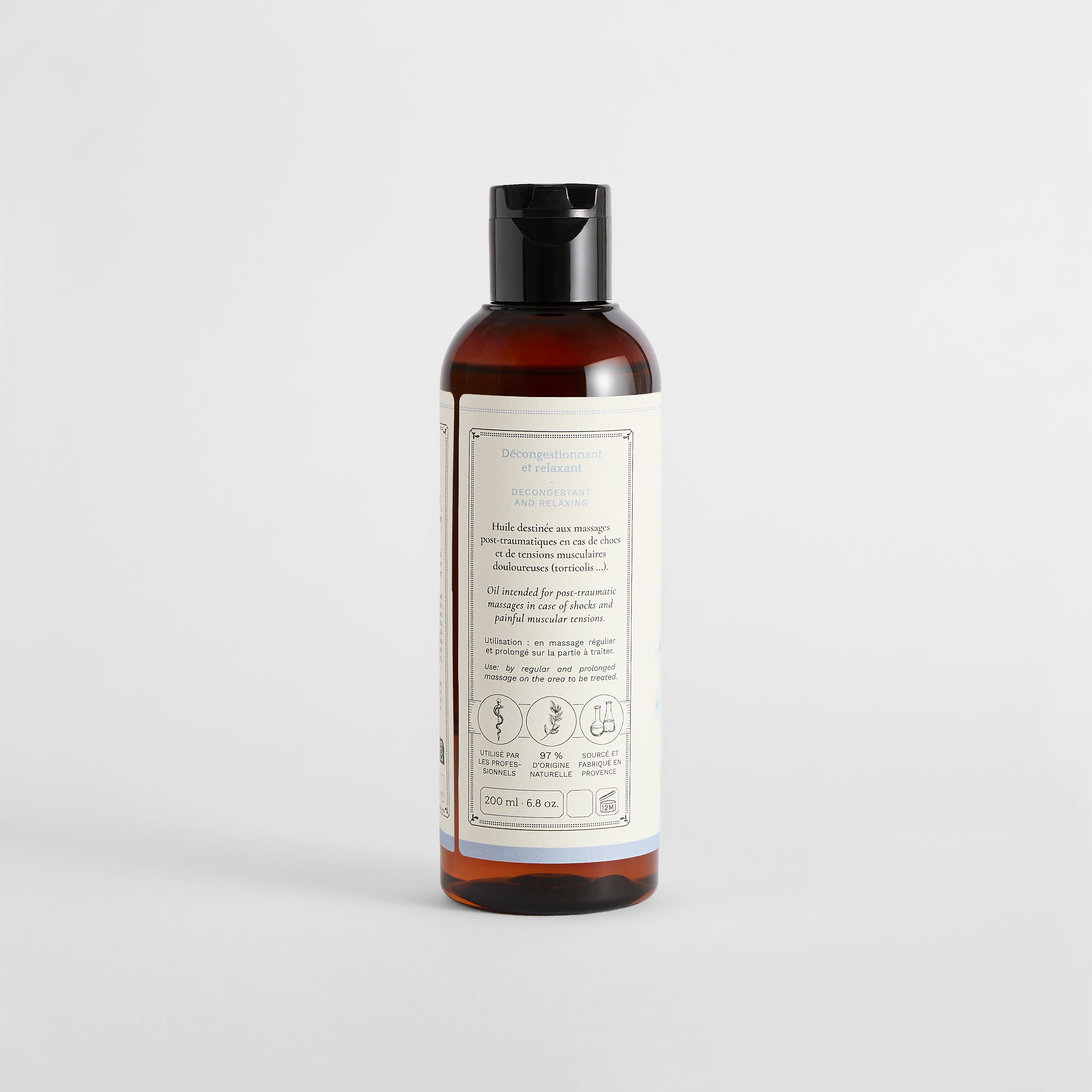 Huile de Baume sans paraffine, alternative au baume du tigre.
Relaxing balm oil
Dry Balm Oil with Arnica is an oil intended for post-traumatic massage in the event of shock and painful muscular tension. Its high concentration of arnica plant extract makes it a powerful soothing-decontracting agent combined with natural ingredients that are both refreshing and stimulating.
The sensation of freshness provided by plants to your body deeply penetrates your muscles and diffuses the active ingredients of plant extracts of Arnica and essential oils of Eucalyptus and Lavender. This cold effect decongests, drains, facilitates blood circulation and relaxes the muscles.
Easier to apply the balm but also effective, the balm oil brings to the massage all the relaxing benefits for your muscles of Arnica and essential oils.
Like our entire phyto range, our formula has been recommended and used for 30 years by more than 5,000 French physiotherapists.
Arnica is a medicinal plant that has been used for centuries for its healing properties. Arnica is known for its anti-inflammatory, antiseptic and analgesic effects. It is often used to relieve muscle and joint pain, bruises and contusions. Arnica is generally considered safe and well tolerated, but it can cause side effects such as redness, itching, and skin irritation. It is therefore important to use formulas made by professionals so that the dosage and its combinations are adapted to your use.
Stress-related muscle tension Migraines Post-traumatic pain Torticollis Contractures Aches
["Huiles essentielles d'eucalyptus et de lavande","Huile minérale et végétale","Huile d'amande douce","Extrait végétal d'arnica"]
vitis vinifera seed oil, caprylic/capric triglyceride, tocopherol, mentha arvensis piperascens herb oil, eugenia caryophyllus bud oil, eucalyptus globulus oil, cinnamomum cassia oil, eugenol, cinnamal, limonene, linalool, coumarin, isoeugenol, benzyl benzoate.
The cold has an anesthetic and calming effect
In addition, on the principle of cryotherapy, the cold generated by the combination of menthol and essential oils of mint, eucalyptus and in some cases by the evaporation of alcohol has the effect of softening muscle tissue. and promotes the penetration of plant active ingredients.
In which cases should you use formulas providing a feeling of freshness?
For heavy legs and in case of muscle shock, hematoma, contractures, muscle tension or trauma.
Cold natural gels for lymphatic draining massages
The effect of cold on heavy legs is generally beneficial as it helps to reduce inflammation and the feeling of heaviness. When the legs are exposed to cold, the blood vessels constrict, which can improve blood circulation and reduce swelling. This can relieve the symptoms of heavy legs and provide a feeling of freshness and lightness.
Draining massages, also known as lymphatic massages, are specific massage techniques designed to stimulate the lymphatic system and promote the drainage of accumulated fluids in the tissues. The lymphatic system plays a vital role in maintaining the body's fluid balance and eliminating toxins.
A lymphatic massage is a form of draining massage that focuses specifically on the lymphatic system. It uses gentle, rhythmic movements to stimulate lymphatic circulation, promote the drainage of stagnant fluids and strengthen the immune system. This type of massage is generally recommended to treat water retention problems, heavy legs, edema and circulatory disorders.
On the other hand, a draining massage can refer to a more general massage that aims to improve blood and lymphatic circulation throughout the body, not just in specific areas of the lymphatic system. This type of massage uses kneading, pressure and drainage techniques to reduce water retention, promote the elimination of toxins and relieve the feeling of heaviness in the legs.
In summary, the effect of cold on heavy legs is beneficial because it can reduce inflammation and improve blood circulation. Draining massages, whether specifically focused on the lymphatic system or more general, can help relieve the symptoms of heavy legs by promoting the drainage of fluids and improving circulation.
Also effective for muscle recovery
Baume décontractant
Super produit, je recommande ! Pas cher pour la quantité et la qualité
Retour sur les huiles de baume
Atteinte de certaines pathologies chronique tel que la maladie d Arnold et de la névralgie,ainsi que mauvaise circulation des jambes j'ai des séances de kiné depuis 2 ans asser régulièrement pour calmer mon nerf cervicale j'ai donc acheter 3 huiles ,la chauffante,la cryogénique , et la déconstruction musculaire elle on un réel effet après chaque massage ou dès que je sens que sa bloque j'utilise ces huiles je ne dit pas Ue sa me guerri mais la sentation d apaisement et là je les recommande pour les personnes aillent des souci
Merci pour votre retour précieux ! C'est typiquement pour des personnes comme vous que nous mettons à disposition nos formules
Torticoli
Parfait pour mes torticolis chroniques ! Ca me soulage le soir, et la texture n'est pas grasse.